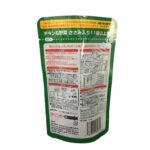 Wet Pet Food Retort Pouch
Retort Pouch, also known as flexible canning, which is designed to replace rigid metal can or glass. Retort process time is reduced due to thinner packaging dimension. It is is able to be sterilized at 110℃ or 121℃ for 25 to 30 minutes only. As retort time is shorten, the nutrition value of food might keep in desired value. At LOGOS, we specialize in producing retort pouch. It is the most innovative and trendy wet pet food packaging. With wide ranges of exclusive packaging options and features, your wet pet food will be differentiated at point of sales. Therefore, LOGOS retort pouch is the best wet pet food packaging.
Logos manufacturing team has solid experience in producing retort pouch packaging. When you enter our workshop, you will find semi-finished retort packaging elsewhere. Thanks to our supreme material supplies, reliable production facilities and rigorous quality control procedures, Logos Packaging is one of the market leader in retort pouch manufacturing in China.
All retort pouches are produced in our facility with BRC Grade A Global Standard for Package Materials, International Code of Practice General Principles of Food Hygiene CAC/RCP 1-1969 (Rev.4-2003)
*Photos are collected from market or internet to illustrate the application of  Retort Pouch for Wet Pet Food.